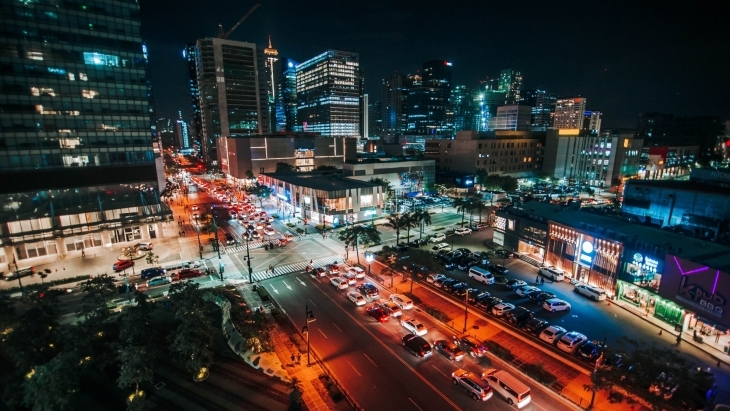 Photo by Meo Fernando: https://www.pexels.com/photo/aerial-photo-of-cars-on-road-during-night-3214989/
BPO sector seeks hub in Philippines' provincial markets over labour costs
The office sector in Clark, Iloilo, and Davao is expected to be 'very bullish.'
Throughout the Philippines' capital region, the overall uptake in the office sector was able to rebound despite varying results amongst central business districts, with the property segment performing better in other areas.
However, it is a different story in the provinces where there is an increasing demand for office space as businesses choose to move there because of the lower cost of labour.

Office market in the capital
According to KMC Savills, the net absorption in the office market in 2022 was 270,900 square metres (sqm), a reversal of the negative uptake in 2021.
"The office sector in general… is a mixed bag," KMC Savills Managing Director Michael McCullough told Real Estate Asia. "We see some really high-performing markets like the Bonifacio Global City (BGC)… other submarkets like Alabang, the area has struggled."
The BGC market saw a net absorption of around 141,000 sqm or more than half of the total in 2022, with the lowest vacancy rate in the capital region at 7.6%, as tenants were drawn to the submarket's "superior-quality" stock and location. BGC's average annual rental growth rate was at 1.2% YoY in 2022, the only submarket that recorded positive growth.
The Makati Central Business District (CBD) posted a vacancy rate of 15.7%, with the average rents dropping by 3.4% year-on-year (YoY) due to the stock of ageing buildings.
Meanwhile, Ortigas Center recorded a net absorption of 22,400 sqm in the fourth quarter, with an increase in rents by 0.9% compared to the previous quarter.

Provincial pull
On the other hand, McCullough said the provincial sites are performing well, noting that Savills is "very bullish" on Clark in the province of Pampanga in the northern Philippines, Iloilo in the central, and Davao in the south. He also noted that Cebu is starting to see some recovery with landlords adjusting prices.
There is a shift in demand in the provinces, particularly for business process outsourcing (BPO) due to the cheaper labour there as it accounts for around 80% of their cost structure.
"The deciding factor is not so much the cost of the rent. That doesn't force the companies that go one place or another, per se. It's the cost of labour, which is a lot larger portion of the way their expenses go," he said.
"Labour is really driving the decision process. If they can save a little bit of money by being in the provinces with more affordable office space, more affordable labour, then the clients feel very happy," McCullough added.

Cebu take-up triples
According to Savills, Cebu saw its net take-up triple in 2022 to 51,800 sqm with the Cebu Bussiness Park (CBP) accounting for around half of the absorption, and Cebu IT Park (CITP) underperforming with an uptake of just 12,800 sqm.
Despite this, Cebu's overall vacancy rate was maintained at 21.8% with the additional 65,300 sqm supply. The average rent in the province declined by 8.6% YoY, with the Cebu Fringe suffering the worst fall at 11% YoY
"For 2023, we expect new building completions covering 187,900 sq m to reach their highest since 2015, as a bulk of new supply is set to locate in CITP," a Savills report read.
"However, we still forecast Cebu's vacancy rate to drop to 18.8% as we expect a rebound in demand from the IT-BPO sector assisted by the lower rents from landlords. CBP may edge closer to single-digit vacancy rates this year while most leasing activity may concentrate in CITP and Cebu Fringe due to the number of vacancies," it added.
Future of the office sector
Savills expects that the rebound will continue this year, with the net absorption expected to see a slight increase. However, this may be isolated only to the top markets.
The occupancy rate is also not expected to return above 85% of office stock until 2025.
"With almost 1.7 million sq m of vacant Grade A office space, another 1.2 million sq m in the pipeline, changing occupier strategies, and rising interest rates, the office market is in unsustainable condition at these rates," according to Savills.
It is important for landlords to prioritise the occupancy of their property over yields, McCullough said, as operating a building has base costs that are used for the team of security officers, to light the lobby, and power the elevator, amongst others.
"We want you to be profitable enough to cover the operating cost of that building, and make a little bit of money. You maybe don't have to lease the entire thing out at super low rents, but the lease covers the costs. Get your first few floors leased out, get some revenue coming in, and make sure it's not a liability," he said.
"If you're paying dues, taxes, insurance, maintenance, security personnel, that that becomes a liability if it's an empty building. We're saying, don't be running negative every month. Adjust your rates and find a few tenants that at least will help you break even every month," he added.
Attracting tenants
The average net rental rate in Makati CBD was at $1.70 (P94) per square foot (sq ft) in the fourth quarter of 2022, lower than the $2.01 (P111) in the same period in 2021. The average in BGC was $1.67 (P93) also lower compared to $1.88 (P104) last year, and $1.11 (P62) in Ortigas Center, which is less than the $1.28 (P71) last year.
However, as the challenges brought by inflation and rising interest rates remain, McCullough said consumers would have lesser money to spend on things they want such as real estate.
"Landlords just need to be a little bit more pragmatic and adjust their rates accordingly," he said.