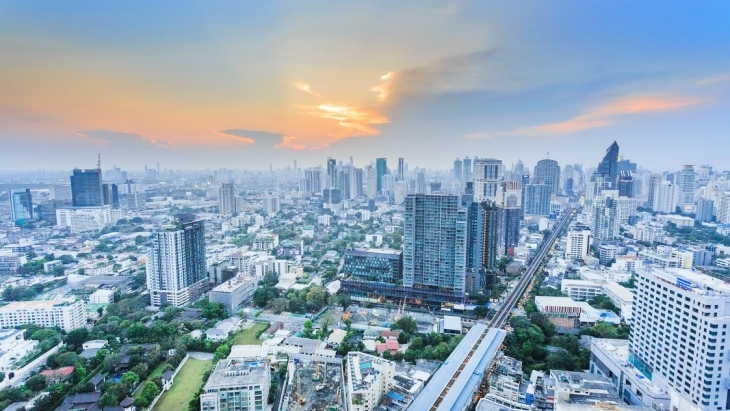 Bangkok's unsold residential inventory to hit 4,000 units 
Over 1,800 luxury units are expected to be completed within the next 12 months.
According to a JLL report, Bangkok is set to see a total of 1,803 units, consisting of six super premium, one premium and two high-end condominiums, within the next 12 months. The unsold inventory could potentially rise to reach around 4,000 units.
The analyst anticipates a number of new launches in the Prime market over the next several quarters, notably in the residential component of One Bangkok.
Here's more from JLL:
Since the beginning of 2023, the mood in the condominium market has continued to improve, particularly in the newly launched projects. Nonetheless, the primary demand source will likely remain domestic. The tourism market has experienced growth, but this has yet to spread to the market for acquiring condominiums. As a result, the rental market has become especially intriguing.
The unsold condominium rate decreased by 40 bps q-o-q to 4.9%, which translates to 3,562 available units across the market. Similarly, the flat vacancy rate has decreased to 7.1%, with 11 fully occupied apartments. Several expats shifted to large units in advance so their families could arrive sooner.
A new wave of supply has not yet hit the market
Condominium inventory remained at 72,768 units due to a lack of new completions. The Romm Convent was the sole new launch in 1Q23. Hence, there remains 5,912 units from 21 projects in the current pipeline for the future.
The number of apartment units increased to 4,793 units after the completion of the GM Residence, Ekkamai and the refurbishment of the Pentacles. In contrast, the Garden View may face closure soon, and its owner is attempting to sell it. Other than the arrival of the restored Pentacles 2 units in subsequent quarters, there are no promised future initiatives in the works.
Rising rents and prices persist
In the absence of new construction, the increasing capital value was directly impacted by the rising prices of existing inventory. Some owners in Asoke and Ekkamai have reportedly boosted their asking prices by 10% to 20%. As of 1Q23, the market capital value stood at THB 132,002 per sqm.
As a result of the influx of expats and foreign residents, rents for both buy-to-let condominiums and owner-occupied apartments have grown to THB 589 and THB 382 per sqm, per month, respectively.
Note: Bangkok Residential refers to Bangkok's high-end and luxury residential market.