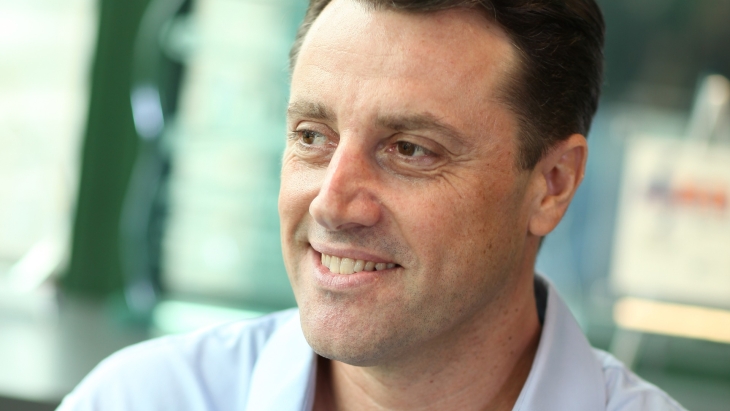 Aedas builds community spaces that can be accessed 24/7
In this exclusive interview, the firm also shares projects promoting wellness and safe workplaces.
The days of monolithic stand alone office towers being left dark at night after the workers have gone home are at an end, argues Aedas Singapore Executive Principal Alen Nikolovski. Instead the development spaces must include mixed use areas for community groups to use after the workers leave, and large parts should be accessible 24/7 to allow people to enjoy it for non-work activities.
As an example, Nikolovski cited the Woodlands North Coast Masterplan with client JTC Singapore. With a total size of 113 Ha, it is set to be a fully industrial business park office, including with retail spaces.
Apart from having a vibrant public urban space, it is also easily accessible as the infrastructure is integrated with lines connecting to the MRT and RTS.
"For the large infrastructure projects in Singapore, particularly, we've noticed the government aspiration for Metro projects for the LTA and station architecture. Singapore has now gone to the highest level of BCA Green Mark, which is the Platinum level," he said.
"We're now fortunate enough to work on phase one of the Woodlands North Coast, the first four which are under construction. There are a mix of business park type developments with retail, as well as industrial. It's quite an innovative mix," he said.
Nikolovski said they conceptualized an integrated basement for this project, enabling a more dedicated use of space in the different levels of the building.
"What's quite innovative is we've created this basement level to allow people in urban space and landscaping to dominate the ground level space. So, all the types of necessity in infrastructure and support structure is taken to the basement," he said.
"We've made this a car light approach which dovetails into Singapore's vision to make Singapore car light. The ground plane is given just to people and their own mobility to devices and buses, whilst the basement level works for goods delivery and access," he added.
It is not just large town scale plans that are getting the open 24/7 overhaul, but even on an office block sized redevelopment there is still room to incorporate these ideas.
Another project in Singapore that Aedas is developing is the Shaw Tower, a Grade A CBD development. This 40,000 sqm property is operated by developer Shaw Towers Realty and has Lend Lease as its project manager.
For this, they are targeting to achieve the BCA Green Mark (GM) Platinum status, the highest level achievable in Singapore.
"We have to work hard with BCA and our client to introduce ways of passive and active methods of innovation within the Metro architecture. We see that as something we embrace and enjoy and we can see that's being used as a benchmark for other infrastructure projects in Southeast Asia and in the world," he added.
One important part of green development is in sourcing locally made materials rather than have to import them from continents away.
According to Nikolovski, another trend he is seeing is that when it comes to sourcing materials, the shift is gravitating towards manufacturing these in Singapore and less on having these items imported into the country.
"Other trends we're seeing that's quite common in our larger scale projects is an emphasis to produce and manufacture materials and precast elements as much as possible in Singapore, and not have them made overseas or shipped in from overseas," he said.
"There's a great emphasis now especially on government projects, to manufacture and build the elements here in Singapore and not rely on overseas import," he added.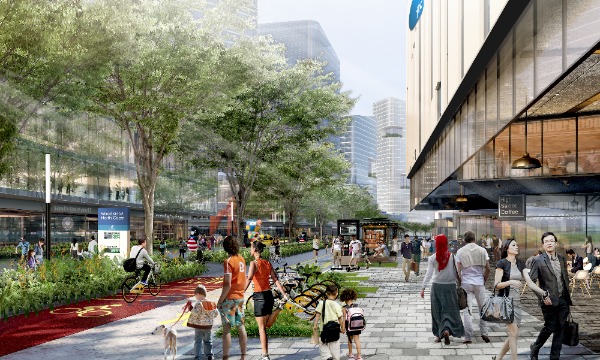 Artist's impression of active corridor in Woodlands North Coast. (Photo courtesy of JTC.)
Community-wide wellness
Aedas observed that the highest priority now of clients is to ensure that designs can cater to the wellness and safety of their workers and tenants.
Through this, developments with community spaces such as parks and open areas that can be accessible 24/7 is now more in demand.
"The biggest shift, and this is really sort of dovetailing into the whole COVID experience, is the highest priority of wellness in the health and safety of workers and workplaces. This was happening before COVID but now it's even more of an issue that everyone is aware of and everyone is talking about," he said.
"This also talks to mental wellness, not just physical wellness. As architects, this is something we're very passionate about. Creating spaces that are not only inspiring, but also safe for people to occupy and experience."
Citing developments in the Jurong area in Singapore, Nikolovski said that public parks and common spaces are present near retail spaces. At the same time, these ensure mobility as it is near bus stations and train stops.
"In the developments around Jurong, we're creating provisions within that development. It's a mixed development, but it has allowances for a library for the communities. For example, we're creating common parks that are accessible 24/7, so it's not just accessible in terms of the operational hours in the building but all around the clock, as to encourage people to engage in the space," he said.
"Around those public parks and common spaces, there's retail opportunities to enliven and activate those spaces, and that's great when we're connecting to infrastructure such as rail or bus. This not only generates activity but also enhances safety. So, we're introducing this at all our mixed developments that are occurring in Singapore," he added.
A new 'fit' for interiors
The changes are not only occurring in the building structures itself, but also as to how workplaces are strategically designed. The Aedas Interiors Team is currently working with Ayala Corporation's AC Energy in the Philippines to make its offices more adaptive to their needs post-COVID.
Nikolovski said that they started the project with this client before the pandemic happened and had to modify their brief later on to create a more future-ready and safe working space. Included in the changed plans were provisions for automatic doors and fixtures that can be remotely accessed.
"Our Aedas Interiors Team started the project just before COVID, and then the project evolved during the COVID period. It's for AC Energy in Manila, a Grade A type of company. We're working on their fit out for their new headquarters in Manila," he said.
"There's the short-term and the long-term strategy we've discussed and developed with them. In terms of the short-term strategy, we looked at immediate ways that we can reduce touch points within the space itself. As much as possible in the front of house areas, there will be auto slide, or non-touching elements for lights, fixtures and doors," he added.
Also in the brief were rearrangement of tables to cater to the needed workspace arrangements.
"We've also had to take into account the spacing between the workers within the workspace itself so we've developed a 120 degree workspace arrangement, which we had as part of the current schema, and it just happened to meet the COVID requirements for spacing. It's something we had developed originally that responded to the requirements, which is quite interesting," he said.
For Nikolovski, as Aedas embarks on different types of projects globally, their aim is to be able to adopt these new effective designs to their future projects.
"As architects, this is a challenging time for all of us but we're embracing the challenge. We're excited about the challenges ahead to introduce the ideas of wellness and the ideas of sustainability is something we're very passionate about, but now it's on the highest agenda," he said.
"It's a nice conversation that we can explore more creative ideas, and implement those creative ideas in our environment very rapidly to test case and benchmark and see how they can be relevant or applied to other communities and other projects we have internationally. I think we're in the right place at the right time to provide this kind of input with our design solutions and implement them," he added.
For more information, subscribe now to Real Estate Asia's channels in Spotify, Google, and Apple podcasts.