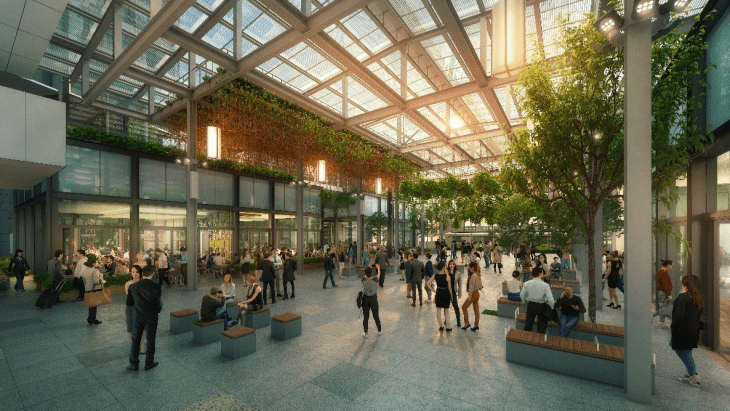 Source: GuocoLand
Tradition meets modernity in futureproofing hybrid offices 
The new Guoco Midtown features five dimensions of office flexibility.
Work arrangements continuously evolving give rise to the need for flexible spaces. This challenges businesses to determine how much of the traditional office should developers retain or forego in designing a futureproof workspace. GuocoLand struck this balance in the new Guoco Midtown, a 3.2-hectare integrated mixed-use development in Singapore's Downtown Core.
The development will feature more than 700,000 square feet of Grade A office space expected to house an additional 10,000 office workers, residents, and visitors.
GuocoLand Group General Manager (Asset Management) Valerie Wong told Real Estate Asia they tapped into their experience in Guoco Tower, and the tenants' sentiments in designing a development that caters to flexible space needs. The first phase of Guoco Midtown is expected to be completed by the end of the year.
"In our current buildings, Guoco Tower and another building reference, we have a co-working operator that fulfils one level of flexibility, but we wanted to really be a part of the integrated real estate solution for tenants," Wong said.
"We looked at what our tenants requested–they wanted the extra meeting rooms, larger town hall, and MICE facilities for up to 200 persons. We looked at the best of traditional spaces and how this is layered and enhanced with flexible spaces."
Read more: How will hybrid working impact office building management?
Five dimensions of flexibility
Wong said Guoco Midtown fulfils the need to futureproof offices through five dimensions of office flexibility, particularly Flex in Core, Core to Flex, Flex Connect, Flex Lifestyles, and Flex Cloud. She added this readies tenants to make adjustments as needed for scenarios, such as a change in business cycles, or worse, in the case of another pandemic.
Under the Flex in Core dimension, GuocoLand ensured that the property will have highly efficient floorplates that allow tenants to design their office space as an activity-based workplace.
"For office space, it's all about the efficiency and we built that into the infrastructure– how the core of the building allows tenants to scale up, whether they want to pack 200 persons to 400 persons per floor whilst taking into account fire safety, efficient needs," she said.
The Core to Flex concept will enable enterprises with their core office based in Guoco Midtown to lease additional dedicated, fitted-out swing spaces. Whilst Flex Connect will allow tenants to tap into a Network Hub annexe building that gives access to service-upon-demand office spaces and meeting facilities.
The Network Hub, spanning 80,00 square feet of space, is directly connected to the office tower. It offers a wide range of amenities, such as lounges, tech-enabled hybrid meeting and training rooms as well as conference facilities that can house up to 200 persons. The Hub also has office pods that have been soundproofed for virtual meetings.
"As a landlord, we have to see when they need to expand, and when they need short-term flexible spaces," Wong said.
"By providing this network hub that offers flexible swing spaces, whether it is just small, for five persons, even up to customised enterprise office, we will allow our tenants to scale up."
Moreover, GuocoLand sought to bring its Guoco Midtown tenants an immersive work-live-play concept, through its Flex Lifestyle concept, with a focus on physical and mental wellness. In the Guoco Midtown Gardens, tenants may stroll within a 3.8-hectare landscaped area that will feature a collection of 30 private and public gardens with over 350 species of plants.
Guoco Midtown will also have a 40-meter lap pool, a jogging track, and an event plaza that could function as an area for workouts or as an entertainment pavilion. Aside from its green deck, a Sky Garden will sit at the crown of the 192-metre-tall office tower.
On top of the garden and activity areas, Guoco Midtown will feature three retail clusters with an area totalling 50,000 square feet. Two luxury condominiums, the 219-unit Midtown Bay, and the 558-unit Midtown Modern will complete Guoco Midtown's Flex Lifestyles concept.
Lastly, GuocoLand incorporated its flexibility concept into its IT infrastructure. Through Flex Cloud, Guoco Midtown tenants will be given access to private cloud service on-demand. This could in effect reduce the need for large data centres or server rooms.
Wong said building Guoco Midtown had been challenging as the GuocoLand worked towards catering to the needs of tenants coming from varying industries, such as insurance, life sciences, trading, finance, and even FMCG. But what GuocoLand looked into are the challenges businesses face today, particularly the short business cycles, and the struggle to retain talent.
"They like and appreciate that, as a landlord, we provide for their wellness, with Guoco Midtown's 40- metre pool and green deck, that would help support their whole wellness and ESG initiatives for tenants," she said.
"But it's also very practical because, in a way when they plan their offices, they can literally turn 20% of their space."